Welcome to Texas Pain and Spine Physicians!

Pain Free Living!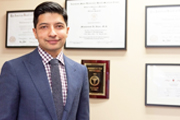 It is estimated that approximately 1 out of 6 Americans, some 50 million people, experience the wrath of chronic pain (3 months or more of pain) during the course of a year.
Using a variety of diagnostic and states of the art treatment methods we help patients achieve their goals. First we look for the source of your pain and then focus on evidence based treatment options to relieve it.
Take the first step to pain free living. Ask your doctor about a referral to Texas Pain and Spine Physicians or call yourself at 512-388-1190 for an appointment.
The American Academy of Pain Medicine reports that chronic pain affects more Americans than heart disease, diabetes and cancer combined.
More than 50 million days of work are missed by employees suffering from chronic pain.
According to the Office of National Drug Policy, prescription narcotic abuse has risen 163% since 1995.
Americans spend more than $2 billion annually on non-prescription pain relievers.